Why did some people want to celebrate Mrs Thatcher's death?  In many parts of the UK there were street parties and the Wizard of Oz song 'Ding Dong: The Wicked Witch is Dead' was a chart hit. Putting aside your political views about Margaret Thatcher. The world today celebrates everything. It's called 'Everyday Exceptional' – the consumers desire for occasion, to seek more reasons to endorse moments of fun and legitimise indulgent experiences.  Basically we like to celebrate. As we are living longer there will be more birthdays, wedding anniversaries and wakes. There are more students than ever and thus more graduation ceremonies. On the whole, consumers seem welcome to this idea of infusing more life and joy into their days, from the sensible to the silly, the ironic and emotional. Humans intrinsically seek celebration.  More than a novelty, celebration makes the air lighter, people feel happier because celebration allows the weight and stress of their world to be momentarily lifted.
The consumer definition of luxury falls under continuous cultural redefinition and this helps to lengthen the list of socially acceptable party pretexts. As a consequence, it was Hester Brown who said: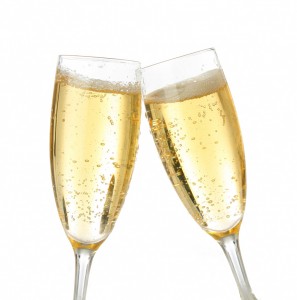 Always keep a bottle of champagne in the fridge for special occasions. Sometimes the special occasion is that you've got a bottle of champagne in the fridge. 
Champagne sales in the UK have increased by 40% over the last 10 years. According to a recent Wine Intelligence Survey, the number one reason outlets stock champagne is for special occasion sales \- and these reasons for occasion seem to be growing. Even dinner parties or small gatherings with friends can now solicit reason to bring on the bubbly.
It was Borat that brought us the Mankini to the Hertz Rugby Sevens.   Though not typical of
  male party clothing it was a symbol of hedonism. Parties, which are not necessarily for the sport fanatic, but rather, for the party-lover… the game, race, match become secondary to the social gathering it spurs. There seems to be a natural increase in the number of occasions human beings choose to celebrate. At one time, steak dinners and party hats were the odd treat, reserved for certain special and perhaps extraordinary moments. But now, not only does each new season bring cause to celebrate but one can find an excuse every month, week or day to buy that new outfit, make merry and indulge in new ways. Under the modern forces of globalisation, there are now a number of national and religious holidays we can choose to celebrate. Ours is a constantly imbricating culture, in which there are simply ever more prompts to treat the day differently.  The result has been the transformation of the everyday into the exceptional.
In 2012, supermarket chain Kroger announced that branches in Southeast America would sell Girlfriends Wine  -  a range designed to suit different tastes and personalities and cover every occasion. Each of the options  -  which comprise "Party Girl", "Wild Girl", "Romantic Girl", "Classy Girl" and "Good Girl"  -  carries a description of the occasion it is suitable to accompany. Classy Girl, for example, offers : "a sophisticated, stylish Chardonnay with hints of vanilla that transitions seamlessly from daytime to night-time for pleasure-seeking consumers".
And those offers with a strong and obvious connection to social display have adjusted everywhere. Celebrating occasions with appropriate flair is becoming easier as luxury goods and services  -  which were once available to an elite demographic  -   are now accessible through temporary ownerships. Virtually anyone can acquire the right human bunting, fun visual champagne these days. For example Ma Bonne Amie is a French rental retail website, allowing consumers to rent dresses and accessories for a number of occasions, from parties to weddings, including appropriate wear for attending  -  and being part of  -  a civil ceremony.
The Future Foundation is suggesting is that there is now reasons to convene a party, taste special foods, drink nice wine, pat someone on the back, make a fuss of a friend, recognise an achievement, make a break in the established routine, give a day a special name, mark an event etc.
As societies grow wealthier, certain overlapping motives release special energy; the need for organised fun, the search for reasons to interact (in) formally with others and the pursuit of  endorsed cultural identity. As a consequence, this turns sporting events into a reasons for celebration not for sporting fans but party lovers. Hence the reason the Hertz Wellington Sevens has got nothing to do with rugby just like the Kentucky Derby is a fashion show not a horse race or Wimbledon is all about Pimm's rather than Tennis and so on. So, the future looks bright for parties and celebration.
Dr Ian Yeoman
Victoria University of Wellington