The Rise of Mercurial Consumption
Dr Ian Yeoman
As Yeoman argues that in most developed economies pre-Global Financial  Crisis (GFC)  the precession consumer behaviour was the product of 15 years of uninterrupted prosperity, driven by growth in real levels of disposal incomes, low inflation, stable employment and booming property prices. Therefore, new consumer appetites emerged in which a consumer could afford to be curious about gadgets and technology, in which tourists shelled out for enriching and fun experiences on exotic locations. The GFC changed that, propelling tourist trends into slowdown, halting or even reversing the trajectory of growth in world tourism. So, is this a sample of the future, the era of the pension crisis, scarcity of oil, inflation and falling levels of disposal income in which tourism expenditure falls year by year? One behaviour that is more prominent is mercurial consumption. This is where tourists are becoming canny at searching for bargains,  whether it is using price comparison software, or grabbing last  minute offers from websites such as www.grabaseat.co.nz which offer last minute air travel deals to New Zealand  consumers, or www.5pm.co.uk which offers diners a chance of discounted meals after 5pm that evening. The dominance of technology and social media has changed consumers purchasing behaviour to something more mercurial in which they actively search for bargains through price comparison websites.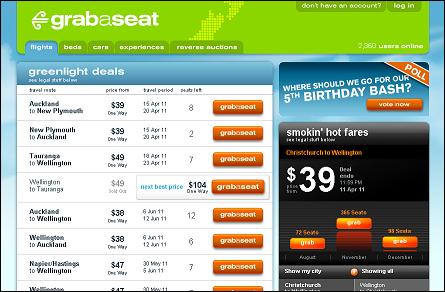 For large numbers of consumer-citizens across the globe, the global economic turbulence made price even more important. The majority of global consumers shop around extensively to get the best deals and over half of global internet users consult price comparison websites online according to research by the Future Foundation.  In the 2010s decade, searching for deals, discounts and promotions when shopping is a default behaviour and this inevitably has implications for how consumers plan for, and purchase, leisure travel. Price continues to be a key determining factor for consumers when making holiday plans.  Holidaymakers in the 2010s can make use of an array of online tools including choice-editing services, review sites, group buying promotions and the ever-ubiquitous price comparison site to ensure they secure a holiday within their budget and to their exacting preferences.
Meanwhile, online holiday planning tools are growing ever more sophisticated and allow consumers to more efficiently edit choice, scan prices and find the right time to buy. Services which guide us towards the most efficient, cost-effective and relevant holiday options and streamline the research process reflect a trend called The End of Inefficiency as consumers being so well guided towards good choices in the markets they inhabit. These consumers will in the coming years receive more frequent invitations to hand over control of decision making processes to smart systems which guarantee to deliver optimised results.
But, so far, in the main, the final selection (of insurance policy, car, TV service, exercise regime, children's dinner…) has been left to the consumer's personal discretion. What is anticipated in this trend is that in potentially explosive ways we  will a) realise that we can actually optimise our decision-making by compressing that discretion and as a result b) embrace systems and services which process choice options on our behalf and, without any or with limited further reference to us, select and activate the best one.  In turn, we will reduce some of the effort we personally invest into discount-hunting, assured that an algorithm will carry out such activities on our behalf. Already we see schemes such as Brand Match from Sainsbury's  -  through which consumers receive real-time evidence
about the savviness of their shopping  -  and others will most certainly follow. Discounts will thus become the default  -  applied automatically rather than being actively sought out.
Pre Purchasing Decisions
Advanced pre-purchase research and detailed holiday planning is important to many prospective global travellers. Research by the Future Foundation found a third claim to research options 3-6 months in advance of a holiday.  As part of modern pre-purchase researching, consulting the views of friends, family and other fellow travellers  -  mainly via holiday advice sites like Tripadvisor, social networks and forums  -  has become an increasingly important part of the journey. Consumers value and trust the opinions and recommendations of others, hence reinforcing the point that the majority of tourists say that recommendations from friends and family are the most important sources of information when planning a holiday. Before the holiday begins, the holiday is planned in advance. Research by the Future Foundation states that Indian (60%) and UK (50%) holidaymakers are most likely to buy new clothes for their trip whereas Italians are most inclined to invest in pre-holiday health and beauty treatments : 22% have a manicure/pedicure; 13% have a fake tan. A quarter of Indians will indulge in a pre-holiday spa treatment. Nordic holidaymakers from Finland (81%) and Denmark (77%) will read up on their destination before leaving. Dutch travellers however, prefer a low-key approach : 23% do not do anything especially to prepare for their trip. Females do plan, 78% of females are the most likely to find out as much as possible about a destination before travelling. Prolonged holiday planning will become commonplace, with decision-making becoming less impulsive and more carefully managed as a result. For many millions of global travellers, the pre-holiday research phase will be actively cherished and seen as an opportunity not only to find the best deal available but also a chance to emotionally prepare for the trip ahead  -  to daydream about a destination and its attractions several weeks and months before take-off. Peer and consumer reviews will become ever more integrated into the travel planning process. Consumer reviews are now considered a valuable resource alongside expert sources of information and have revolutionised the way consumers plan their holiday breaks, long and short alike.
Price Sensitivity
Price sensitivity remains a decisive factor in the holiday decision-making process in the years ahead  -  and particularly so for travelling consumers inhabiting markets facing prolonged austerity, weak disposable income growth and precarious employment prospects. And in fast developing markets too  -  where rising disposable incomes mean that leisure travel is becoming an option for growing cohorts of middle class consumers  -  price sensitivity will greatly impact holiday choices. Stimulated in part by the economic crisis of 2008 and its still powerful effects on the consumer mindset,  tourists are scrutinising price as never before. And with many being simply unwilling to pay full price in any given marketplace, expectations about generous and near-constant discounts have sharpened. In the retail sector millions of consumers now want to beat the retailer and will happily share details of any savvy purchases in order to demonstrate their commercial expertise. Indeed, we can accrue social status through intelligent purchasing and, if the notion of cut-price shopping once carried any sense of stigma, this has long since been shed. Never before have consumers been better equipped to pinpoint the most competitive deal.  In the 2012 smartphone price comparison / review sites and group buying services are just some of the tools helping us to locate choice discounts with relative ease. In turn, the very notion of price has become flexible  -  it is something to be manipulated, played with and, ultimately, challenged. While price used to be fixed, it is now very much in flux.  Consumers have become accustomed to "flash" sales, time-limited offers and fluid prices which can be subject to change from day-to-day or even hour-to-hour. Price is, at it were, a mere starting point for negotiation. Even when the troubled economic conditions settle, behaviour learnt during the downturn will not disappear. Simply put, smart shopping makes too much sense to be abandoned. The clamour for discounts will not therefore diminish. Aware, of just how unstable prices in certain sectors have become, more than 50% of shoppers report that they often delay purchases for items such as books and DVDs in the hope of securing a better deal. Again, this is behaviour more common among younger consumers  -  but in no group is it undertaken by fewer than a third. As online collective buying services  -  such as Groupon, Living Social and KGB Deals  -  continue to proliferate, according to the Future Foundation 4 in 10 consistently expressing an interest in using them to purchase discounted goods/services. Perhaps unsurprisingly, interest is once again most developed among younger shoppers.
Figure 1: Discount forever (Source: Future Foundation)
By 2012, close to two thirds of online respondents (see figure 1) say that they have used price comparison sites to buy a product or service  -  a process which we suggest will become still more specialised and intuitive as the decade progresses. Those in search of savvy deals and bargains can now make use of a wide range of tools and services  -  many of which can be accessed while out-and-about. Devices such as StripeyLines and Vouchercloud to respectively, compare offers and find discounts for nearby leisure venues / retail spaces. We can consult specialist advice and product review websites. Consumers can group buying services to procure serious savings on everything from meals to pedicures to holidays. The Discount Forever mindset drives the demand for incidental pricing schemes  -  where consumers can opt in or out of various service components in order to achieve the offer (and price) which most suits their needs. It is a principal perhaps most well-known in the aviation industry (where passengers can, inter alia, choose to pay for hold baggage, priority boarding, in-flight meals, travel insurance…) but one which is gaining momentum in other sectors too. From a tourism perspective (figure 2), price is the number one determinant of choice today according a Visa Global Travel Survey,  beating other variable such as scenery, political stability and diversity of activity.
Figure 2 – Determining factors in choice of travel destination (Source: Future Foundation)
Pricing Innovations
Bing's Flight Price Predictor claims to be able to give consumers a rating as to whether or
not flight fares will rise or drop  -  helping them to decide whether to buy now or wait for a better deal.  The technology is largely based around analysing the vast amount of data that is collected by the company on airfares every day, with the tool giving users a rating of confidence for each prediction. The service thus offers a considerable amount of transparency on the changeability of price and the consumer gains a whole new level of control over the prices they pay.
The service Wanderfly promises to help consumers find the perfect holiday option at the best possible price. It invites users to select what kind of holiday they are looking for  -  be it one with landmarks, lots of history or one that is family-friendly  -  and then suggest their preferred budget and time frame. Subsequently, it displays a variety of options as well as a price comparison. The travel booking service PriceLine.com includes a Name Your Own Price feature, which allows consumers to select a number of travel requirements and then choose the price they want to pay. Consumers immediately receive a number of bids that meet or better their named fee.  Members of the US invite-only website ScoreBig can bid for sports and live entertainment tickets by naming the price they want to pay for them. Users enter their seat and date preference and receive a notification if their offer is accepted. The site claims that every ticket sold is below face value. SpainSave is a discount club which allows its members to obtain reduced prices on "over 1,000 top attractions, activities, restaurants, bars & shops" while on holiday in Spain. Consumers can purchase a card for a period of either one month or one year. In 2012, UK-based camping holidays provider Canvas Holidays launched an offer whereby if there were at least two fully-paying adults, up to two extra adults could stay free of charge. In January 2012, Scandinavian Airlines launched a discount deal which could be accessed only by scanning a pair of QR codes and then downloading special apps to two phones; once the screens on the two handsets were placed against each other, two halves of a special video  -  and discount code  -  were united.
Concluding thoughts
About two in 5 US consumers would switch from brand name as a result of a 10-20% price increase, according to an October 2011 survey by Accenture. Data from the "Pricing Shopping Survey" indicates that roughly one in 5 consumers would also make the switch given a price increase of less than 10%. As a result destination or brand loyalty is being eroded. So, times have changed. The global financial crisis has facilitated a change in behaviour. Tourists are more price sensitive and as a result mercurial consumption has taken bite in which tourists search, compare and do more pre-planning compared to the pre-global financial crisis.
The article is a version of a paper to be published in the Journal of Revenue & Pricing Management co-authored with Damian Lord (Future Foundation).